On safari!!!
Up early (5:00am) for our morning safari. Yet another clear day. And we're off again …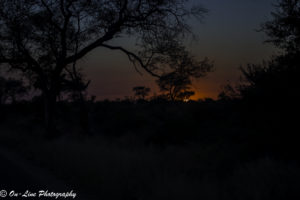 Early sightings included giraffes, baboons, vervet monkeys, dwarf mongoose, Cape buffalo, elephants, elephants and more elephants!!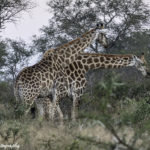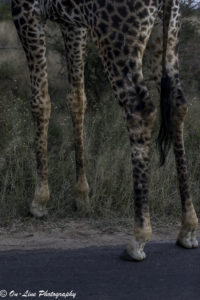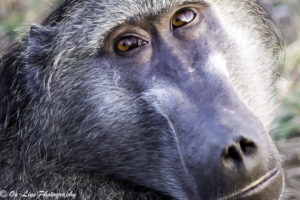 Amongst the elephant sightings, one was a group of elephants digging holes in the sand of a riverbed until they reached suitable water to drink. Apparently, some elephants don't drink water from the river because they feel that the water is too dirty due to other animals swimming and urinating etc in that water.Thus they employ their own water filtration system … how clever!!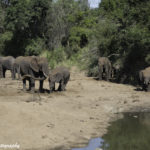 We basically followed the Sabie River to Lower Sabie, stopping at an interesting place called Sunset Dam where we saw a huge number of crocodiles basking at the water's edge! I for one have never seen so many crocodiles congregated in the one place! And some of them were enormous!! We sat in the vehicle for a good 15 minutes just taking it all in, and having a good look at these amazing apex predators through the binoculars.

Next stop, brunch at Mugg and Bean at Lower Sabie Rest Camp. Well, this Mugg and Bean certainly has glorious views over the Sabie River, so we took in the panorama, and also enjoyed the company of numerous starlings and a barn owl! Then we were off again on safari! Sightings this time included elephants, giraffes, zebras … and … incredibly … a lioness!! Steve was the A1 lion spotter, seeing this beauty sunning herself on a sandbank in the river. So we sat and soaked up the thrill of seeing our first lion in the wild! It was all up to Norman to get the ace photos!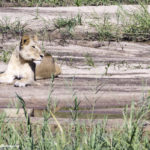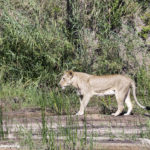 Then it was back to the Skukuza Rest Camp where we had a short "rest period" (during which Steve & Di saw hippos coming out of the water … all viewable from our rooms!) Then it was off to the Lake Panic hippo hide again. Hippos were there again … and Norman got his "hippo with open mouth" shot … YAY!! However this time we were also treated to the sight of an African fish eagle taking an African jacana!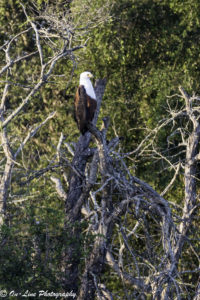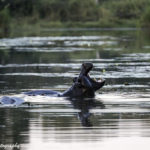 We then headed back to our lodging, where we had dinner at the Cattle Baron again (with some repeat orders of last night's meals). After dinner we enjoyed our "bush TV"(that is, our camp fire). It was just lovely sitting around the fire with a beverage in hand, recounting our wonderful adventures. Heather definitely had the winning tale though – her "toy"story!! Nothing could beat that!!
Time for bed …