Started the day with a warm and hearty breakfast at the Sleep Eezy Cottages, compliments of Moira and Lawrence. At 9:00am we finally got to meet our safari guide Shaun Taylor who collected us in the VW minivan, ready for our travel day to Kruger. And so we headed off …
First stop was a mid-morning coffee break (with a twist) at the Alzu Petroport roadhouse en route. Shaun had told us there was a surprise in store there, and all would be revealed if we walked to the back of the complex and looked out the window. Well, we did as we were told, and lo and behold, had a fabulous view of a game enclosure containing six rhino, a large number of buffalo and a host of eland, blesbok, ostriches and even an emu or two! All owned by the service station!! Amazing! As Shaun said, this would be the precursor to our own safari adventures!
Then we hit the road again, with the next stop being the pretty, quaint town of Dullstroom. We stopped for the famous pancakes at Harrie's Pancakes. Lovely! Di and I had a look in the cute art/craft shop next door where I spied a fabulous locally handcrafted wall hanging … $500 AUD! After our lovely pancakes we were off again in the direction of Kruger. The next part of the journey was a bit hair-raising as we traversed hills in the company of huge coal trucks and logging trucks, given that the area is home to many coal mines as well as pine tree plantations. Indeed the pine tree plantations stretch for miles and miles as this area in the Mpumalanga province is one of the largest afforested areas in South Africa (0.6 million hectares). We witnessed their dangerous driving on a whole new level, with a motorcyclist on our side of the road overtaking us plus a coal truck on a blind bend in the road, with another coal truck closing in on him from the oncoming traffic!! Suffice to say it was a close call!!
After a couple of hours we reached our accommodation, the lovely Kruger Park Lodge which is situated on a 9-hole Gary Player designed golf course on the banks of the Sabie River in Hazyview, Mpumalanga. Very nice! There were plenty of impala meandering around the golf course. Shaun took us to our 3-bedroom chalet within the lodge. Very nicely appointed! We deposited our bags then headed off to a Hazyview elephant sanctuary, Elephant Whispers. Elephant Whispers is home to six tamed and trained elephants who were rescued from planned game reserve culling operations by Elephants for Africa Forever (EFAF). As ambassadors for their species, this herd has an important conservation message to share. And the handlers are passionately dedicated to their charges, spending hours each day keeping the elephant company, walking together, cleaning their stables, collecting food and seeing to their medical needs. They are a closely bonded unit. We had an incredible experience there, being able to touch their biggest male elephant (Tembo), exchange trunk greetings and offer him tasty treats. It was amazing when he lay down and allowed us all to touch his ears, trunk and back. I could even feel his heart beating!! Just wonderful!

While we were at Elephant Whispers, Shaun went off to collect our safari vehicle. Upon his return, we had our first ride in our open safari vehicle, a Toyota Landrover, which would be our safari transportation for the next two days.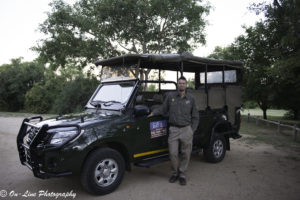 After Elephant Whispers we headed back to our chalet where we showered ready for dinner which was at G's bistro, (shades of Griffith Uni!), in Hazyview. Shaun's parents, Gary and Ros joined us. We had a lovely dinner, which ended with a local dessert treat, a Don Pedro, made with icecream and their creamy liqueur Amarula. Very decadent!
Off to bed at the Kruger Park Lodge.