We arrive at 5:00am to a cold Johannesburg. Our J'Burg guide, William, was there to meet us, and off we went to check into our accommodation, the quaint Sleep Eezy Cottages http://www.sleepeezy.co.za What a charming little B & B in the suburbs, very close to OR Tambo International Airport! Our lovely hosts, Moira and Lawrence, made us feel very welcome, even turning the heaters on in the rooms beforehand to make them warm and cosy. Moira and Lawrence put on a wonderful breakfast, after which we set off again with William on our day tour.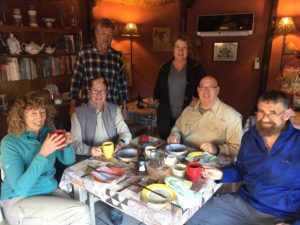 First stop was the Sterkfontein Caves. These caves form part of the Cradle of Humankind World Heritage Site, and are world famous for their fossil finds. They are also home to hominid fossils, "Mrs Ples" and "Little Foot", the latter being an almost complete Australopithecus skeleton dating back more than 3-million years. We navigated the 200 steps to descend down into the caves where we were rewarded with views of complex formations, fossils and an underground lake. It was a great experience!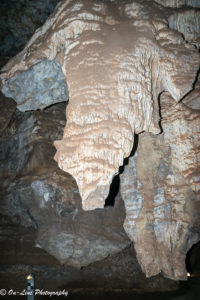 Next stop was the Maropeng Visitor's Centre (in the same site as the Sterkfontein Caves). Maropeng means 'returning to the place of our ancestors', and the Visitor's Centre is designed to resemble a burial mound. The extensive modern exhibition takes an interactive approach to the history of life as we know it from the big bang to the evolution of humankind, the discovery of fire and the spread of people across continents. Our visit started with a fun boat ride through the ages before we entered the museum proper where we saw educational displays complemented by examples of the kinds of fossils and tools which have been found in the Cradle of Humankind.
Next stop was a late lunch at the Lion and Safari Park in Kalkheuvel. Very pleasant having a light lunch and beverage overlooking the giraffe enclosure. A couple of giraffes even stopped by and graced us with their presence!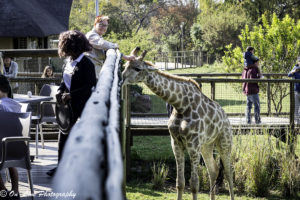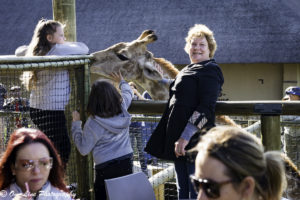 Then on to our last stop for the day, the Lesedi Cultural Village, situated within the Cradle of Humankind site. We looked through the locals' marketplace there and bought a few handmade crafts. We were then treated to a dance display, and lastly a fascinating insight into the cultures and traditions of the people of Africa, visiting five traditional homesteads inhabited by Zulu, Xhosa, Pedi, Basotho and Ndebele tribes who live according to tribal folklore and the traditions of their ancestors. It was most interesting. Norman ate a dried Mopani Worm (didn't get the thumbs up)! After all this, we enjoyed some traditional African fare for dinner in their Nyama Choma restaurant. The buffet included such exotic dishes as crocodile, kudu, and staple sides including pap, creamed spinach and pumpkin.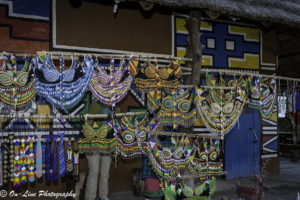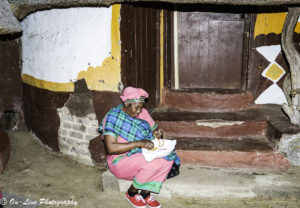 HUGE day … we were constantly on the go since our arrival in J'Burg at 5:00am! Back to Sleep Eezy, and in bed at 10:30pm.