Once again we were excited for the day ahead as we were headed to the Klaserie Private Nature Reserve where we would be treated to a very private, exclusive safari experience! The Klaserie Private Nature Reserve is a 148,000 acre private conservancy that is open to Kruger National Park, allowing animals to roam freely. However visitor numbers are strictly limited providing a more intimate exclusive experience, and walks are permitted in the bush (if accompanied by an accredited guide)! It is one of the most unspoilt reserves in the area, being fiercely focused on nature conservation and low-impact tourism. Bring on the day!!!
We set off singing 'He's Got the Whole World In His Hands'!! And in the first sunlight of the day, while we were still in Kruger National Park, we saw giraffes, zebras, and elephants.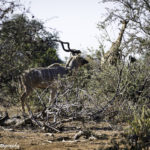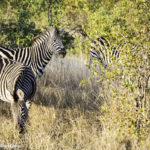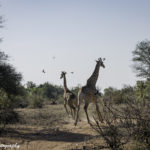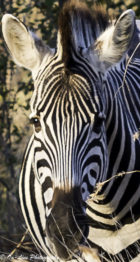 And our last sighting before exiting the Phabeni Gate was a herd of about 100 Cape buffalo. They were alongside the road grazing, and looking to cross the road. So we stopped dead in our tracks, cut the engine, and just sat there silently. And the buffalo came!! They virtually surrounded our vehicle in their quest to cross the road. I will never forget the sounds of them, in great numbers, munching the grass at the road's edge! That was a highlight for me … truly awesome!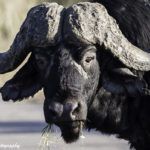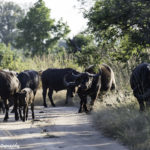 We then headed back to Hazyview where we firstly stopped in at G's Bistro for brunch (Shaun's dad, Gary, joined us), after which we changed over the safari vehicle to a minivan for the trip to the Klaserie. Then it was off to the local shopping mall to buy a SIM card. Done! And we're off again!
En route we passed through rural townships like Bushbuckridge where it was interesting to see the local folk going about their day-to-day life. Such creative spirit roadside with a car wash involving buckets of water and rags, and plenty of elbow grease!! Once again, we encountered plenty of coal trucks and logging trucks on the road.
After about 2 hours travelling, we arrived at the Klaserie HQ (basically the entrance to the Klaserie Private Nature Reserve) where two safari vehicles awaited us. We met our trusty tracker, Wiseman, who would be Shaun's aide for the next three days. And so we changed over to the Range Rover with Shaun, while Wiseman took all our bags in the other vehicle. Off we went! Straight away this is quite different to Kruger in that there is really only one sealed road through the reserve. All the safaris will be off-road on dirt/rock tracks. Fabulous!
And so we hit the tracks! Bush bashing our way through the scrub, we negotiated a rocky mound before … lo and behold … there was our private lodge, Nyeleti! Literally out in the middle of the African bush with nothing around it for miles was this incredible luxury accommodation surrounded by manicured lawns, all with a view of the Klaserie River!!
It took our breath away, a real oasis! Nyeleti comprised six twin-bed thatched roof rondavels (African round houses), luxuriously appointed with quality furnishings, mosquito nets, and ensuites featuring claw baths. Our rondavel was called 'Joao' in memory of much loved local elephant, Joao, who roamed the area from 1939 to 2000. The property also featured a common lounge and indoor dining room, lovely al fresco dining area, braai and fire area, and a splash pool. All exclusively to ourselves!!
Shaun introduced us to our private chef, Lindsay, who would be preparing all our meals for the three days. We were gobsmacked at the whole arrangement! Lindsay had lunch prepared for us … we all loved her salad, most especially her homemade dressing. After lunch and a short rest time, we headed off on our afternoon safari. Sightings included giraffe, hyena, waterbuck and impala. And because we were in the private reserve, we could leave the vehicle, meaning we could enjoy our first real African bush sundowners! A fantastic treat!
Then it was back to our beautiful lodging for a "Lindsay" dinner of chicken curry, roti and samosas, after which we sat round the camp fire and revisited our stunning day!